—


"When you consider the wide range of symptoms that food allergies can cause, it's not hard to believe that every person you know could have a food allergy."

– Robert Giller, MD author of Natural Prescriptions
Figure 1: Large, maldigested, allergic food particles bypass the immune barrier through wide gap junctions between cells of the small intestine. These particles enter general circulation.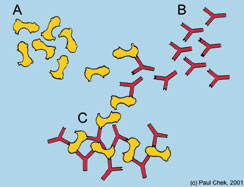 Figure 2: Allergic food particles (A) cause B-cells to manufacture antibodies (B). The resulting complexes (C) are known to cause a wide range of symptoms, including nasal allergies and chronic sinusitis.
Blood sample & process $29 (20 min)
Lab Fee (96 common foods, payable to US Biotek) $159
After your blood sample is taken, processed, and received at the lab, results are back to our office in 10-14 business days. We'll give you a call to schedule a Review of Findings.
Review of Findings (20 min)$65
Review test results and discuss the 90-day elimination phase.
Note: Though not all sinusitis is caused by hidden (IgG)  food allergies, a 90-day elimination of reactive foods will help to rule them out as a cause. Other general health issues like migraine headaches, digestive and skin problems, and fatigue can be caused by hidden food allergies.
© 2011 Frank Aversano, ND / Nova Sinus Center, LLC  Trademarks
Blood testing for hidden food allergies

,